Product
SMB & Enterprise
Trial
Professional
Enterprise Access
7-days
€ 2.000,- /Year
€ 10.000,- to € 50.000,- /Year
Accounts
1 user
1 user
5-50 users
Selector Search
100 /day
200 /day
500 /day per user - unlimited
Phonebook Lookups
25 /day
25 /day
100 /day per user - unlimited
Alerts
10 included
10 included
100 per user - unlimited
Download
✔
✔
✔
Export (CSV, ZIP)
✔
✔
✔
API
Fair-use
Fair-use
✔
Bulk Access
Fair-use
Fair-use
✔
Data Categories
All
All
All
Extra Data Categories
Preview: Private Leaks
Private Leaks
Private Leaks
Free Tiers
Public
Free
Academia
(not logged in)
(signed up)
(universities & schools)
Selector Search
10 /day
50 /day
100 /day
Phonebook Lookups
5 /day
10 /day
25 /day
Alerts
❌
❌
10 included
Download
❌
❌
✔
Export (CSV, ZIP)
❌
❌
✔
API
❌
Fair-use
Fair-use
Bulk Access
❌
❌
❌
Extra Data Categories
❌
❌
❌
Commercial Use
❌
❌
❌
Data Categories
Public only
Public only
Pastes, Darknet, Whois
Preview Data Categories
Pastes, Darknet, Whois
Pastes, Darknet, Whois
Preview: Private Leaks
Sign up
and receive a free 7-day "Trial" account. After the 7 days, the account is downgraded to a "Free" account.
Identity Portal
We offer a separate product "Identity Portal" exclusively to companies and governments upon request. It has two functions (for additional details
read this post
):
1. Discover and list all lines in a text where the search term appears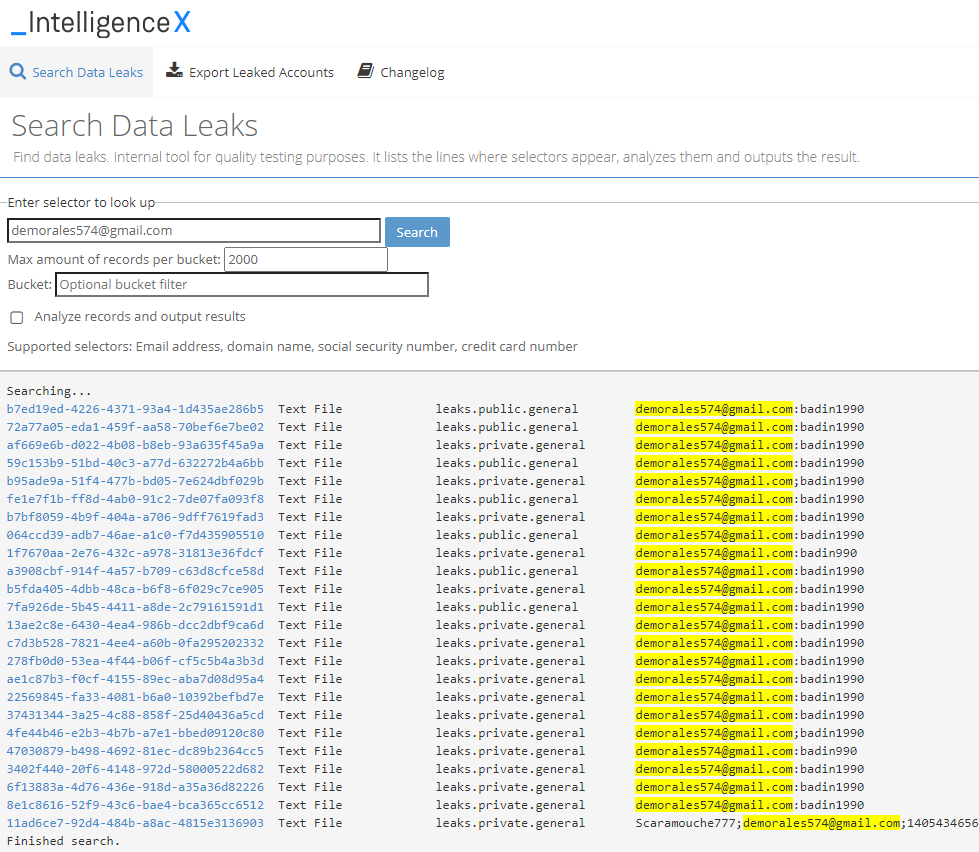 2. Discover and list leaked accounts for a specific domain or email address, and export it as CSV file.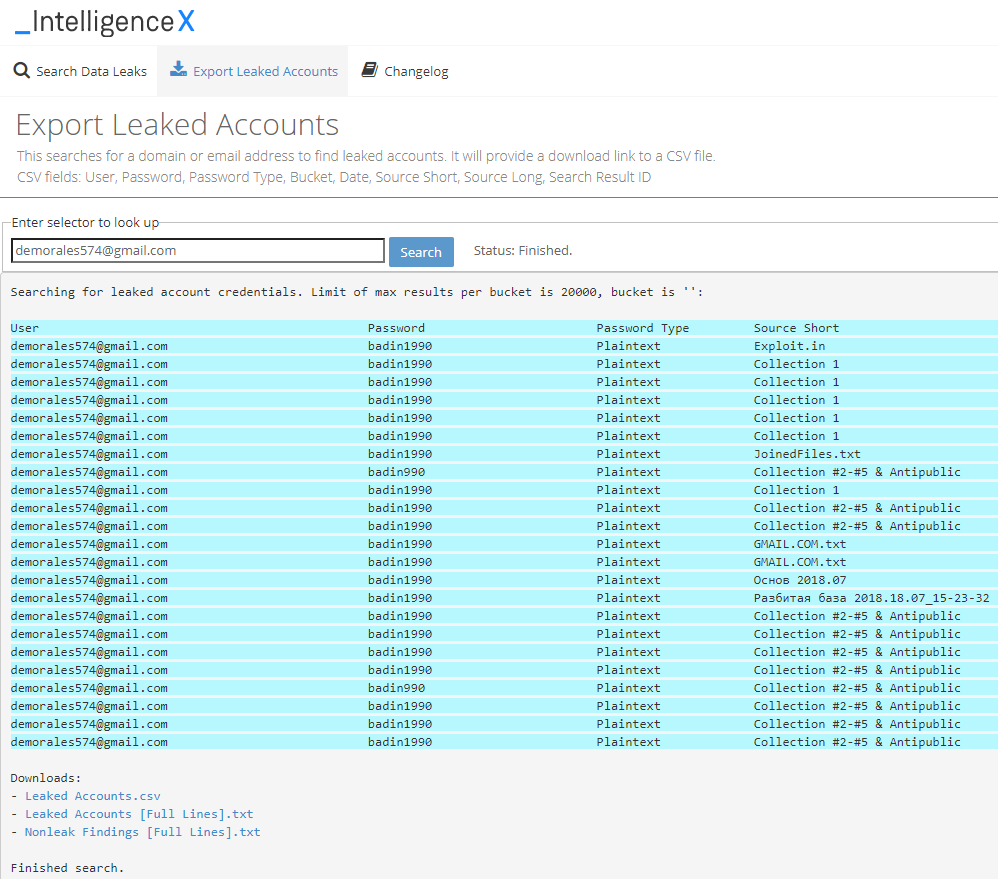 Search for Selectors
Intelligence X allows you to perform a search for these selector types:
Email address
Domain, including wildcards like *.example.com
URL
IP, CIDR. Both IPv4 and IPv6 are fully supported.
Phone Number
Bitcoin address
MAC address
IPFS Hash
Credit Card Number
Social Security Number
IBAN (International Bank Account Number)
... and other internal ones like UUID, Storage ID, Simhash
In these categories:
Paste sites, including historical ones
Darknet: Tor and I2P
Wikileaks & Cryptome
Government sites of North Korea and Russia
Public and Private Data Leaks
Whois Data
Dumpster: Everything else
Public Web